Do you ever feel overwhelmed with the number of items on your to-do list? Does your list include 20 items to juggle, including meal planning, grocery shopping, prepping and then finally cooking? If you are like me, all these tasks can be overwhelming.
I would love to be a chef. I watch cooking shows all the time and marvel at the cooking skills of the chefs and the magical and tasty meals they make. The kitchens are always super organized with shiny stainless appliances and prep stations that are filled full of delicious ingredients. I never thought I would have an opportunity to cook in such an environment……until I went to a blogger event at SupperWorks in Nepean.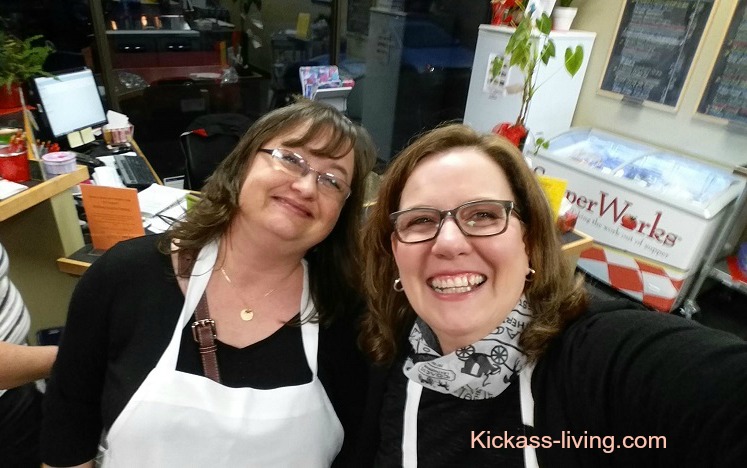 SupperWorks is a fascinating concept. It is a "meal assembly kitchen" which means that you go and prepare quick and easy meals for yourself and your family. The entire process is super easy and it really does take the hassle out of meal preparation. You don't have to go grocery shopping and buy special ingredients for a recipe. Nor do you have to wash the produce and chop all the ingredients. It really is a hassle free way to make delicious meals that your family will love. All that and NO dishes to wash or kitchen to clean…how perfect is that!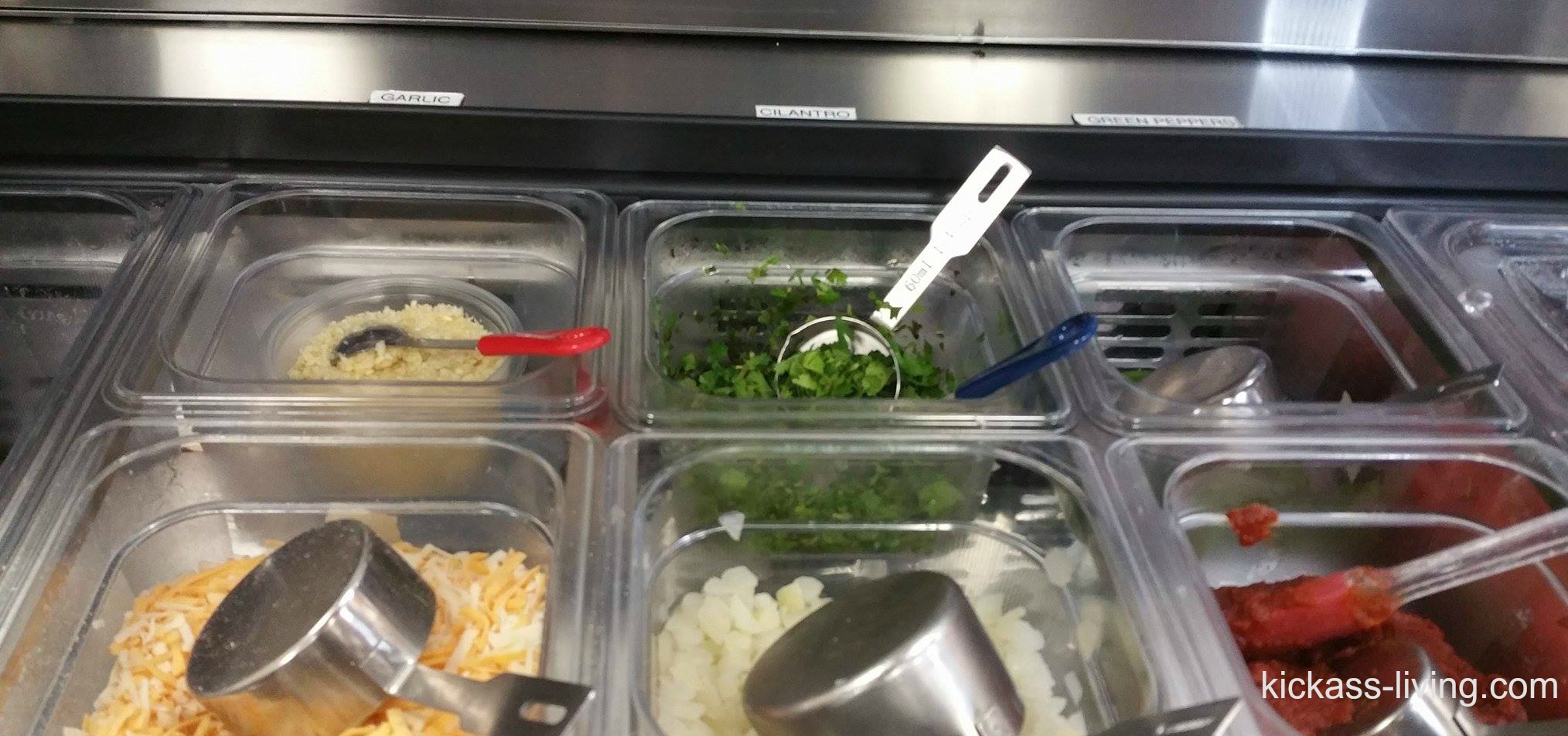 Process
Every month. SupperWorks creates a tasty menu filled with great recipes. You select the recipes that you would like to make and book a time to go to SupperWorks and assemble your meals. SupperWorks will buy all the groceries, prepare all your fresh ingredients. provide recipes and containers for you to take your meals home. All you have to do is go from station to station and assemble your meals. Super easy and you can pretend that you are a chef on a fancy tv show 🙂
Doesn't Cathy look like a pro!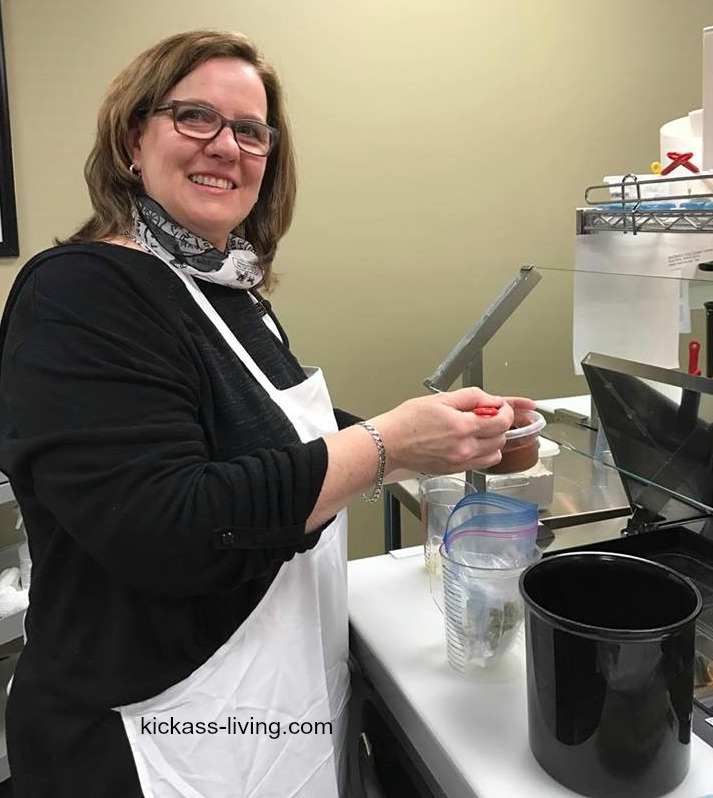 Here are some of the tasty items we made!
On the left are Glowing Goddess Quinoa-Veggie Wraps. SupperWorks describes them as " filled with grilled veggies, black beans, Cheddar-Jack Cheese, and our own secret recipe Garlic-Lime Quinoa."
Upper right is the Best Ever Crunchy Coleslaw. SupperWorks describes it as "an absolutely fabulous, Asian-inspired coleslaw made with crunchy ramen noodles, toasted sesame seeds, and own home-made seasoning blend."
Lower right is Pork Tenderloin and Proscuitto in Puff Pastry. SupperWorks describes it as " this mouth-watering presentation of pork tenderloin, Italian prosciutto and seasonings wrapped in our light and flaky puff pastry will "wow" your guests.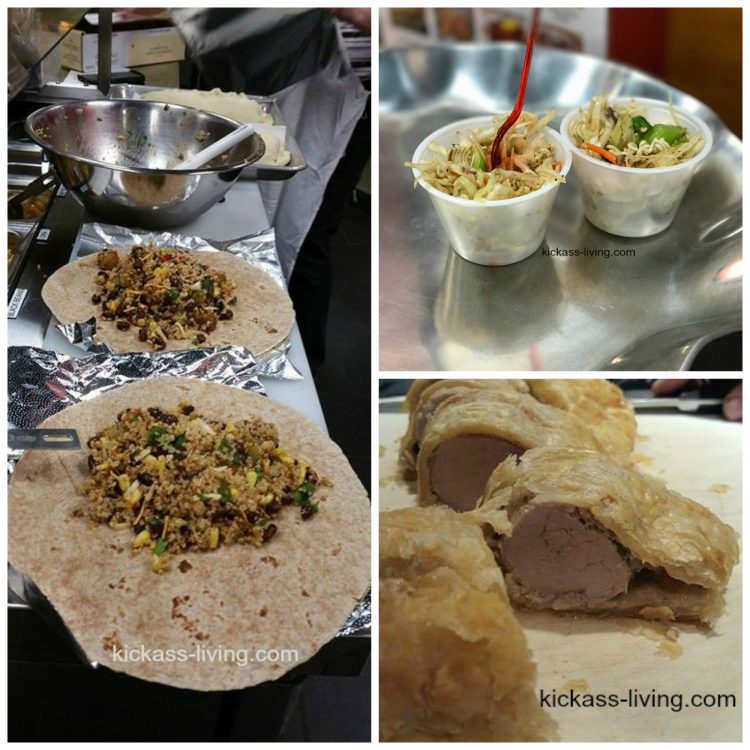 The food was delicious and I can not wait to go back and make some more meals for my family. Whether you go alone, with your kids or with your girlfriends, SupperWorks is a fun and hassle-free way to make some delicious meals that you entire family will love. And don't forget…no dishes or clean up after you are done 🙂 There are 3 locations in Ottawa (Orleans, Kanata and Nepean). Book a session and have some fun!